Values.
For many organizations, this is a concept passed around during high-level board meetings, or developed in the strategic planning or story brand process, but quickly forgotten. Even in a workplace that has their values displayed and posted for frequent employee review, company values still often feel dusty and inanimate -- not active verbs as much as required reading once or twice a year.
But now, more than ever, your corporate values are on display.
COVID-19 is boiling your Brand Story down to values.
Whatever your Brand Story, your current and potential customers are focusing on your values. And, they're taking note.
People discuss what they would run for if their house was on fire. But, this principle remains just as true for businesses during a crisis. The nation's call for social-distancing has most companies ablaze. What you run to protect and preserve displays exactly where your values lie.
Disney? Well, they closed their parks and resorts -- and donated 1.2 million meals to the community.
Gamestop? They're staying open. Up until March 22, they even allowed people inside their stores. They've since found a "contactless delivery service," but this still requires employees to come into work. They claim to provide essential services… for telecommuting and… stuff. These are their values at display. The community will land on both sides of this issue; Gamestop will gain renewed loyalty from one portion of the community, while losing the respect and loyalty of others.
Values are verbs. They have to be lived-out to ring true.
The thing is, every COVID-19 message begins with "Because our main concern is for the safety of our community... our customers and our employees…" Just like any other corporate message, the proof is in the pudding. Simply broadcasting a people-first value will not convince the public.
Disney's effort to donate their food to the local community is a value in action. And, so is closing their doors, refunding or rescheduling thousands of tickets and reservations, and continuing to pay their Cast Members for forced time off. When boiled down, their Brand Story is every bit as "magical" as you'd hope.
However, just because values have to be acted-out doesn't mean that you should "go dark" in your communications. Your message may be trite, but staying silent won't help either.
Speaking of trite, your message doesn't need to be run-of-the-mill to make a point. Sticker Mule chose to employ a unique messaging tactic during the crisis. Emails were sent with large discounts on one of their popular products. In these concise emails, they offered a short-term discount to help the business community, then linked their audience to web pages and twitter videos from their Facilities Director (and unofficial spokesperson) addressing the COVID-19 outbreak.
Sticker Mule Email #1:

"Hello,
This week, we're doing our best promo on labels:
Get 50 3" circle roll labels for $29.

Anthony
Cofounder, Sticker Mule

P.S. Read how we're operating safely during the COVID-19 outbreak."

Sticker Mule Email #2:
"Hello,
We're running a deal on custom die cut stickers!
Get 50 3" die cut stickers for $29 thru Friday, March 20.

Anthony
Cofounder, Sticker Mule

P.S. Watch a message from Vinny on COVID-19."

Sticker Mule Email #3:
"Hello,
Our deal on die cut stickers expires Friday!
Get 50 3" die cut stickers for $29 (normally $69).
As an added bonus, we'll include a FREE bottle of Mule Sauce with every order!

Anthony
Cofounder, Sticker Mule

P.S. Watch a message from Vinny on COVID-19."
Values create loyal, emotionally-connected customers & a powerful brand story.
Communicating about your COVID-19 policies, and sharing how your business has become #humanshelpinghumans, is crucial during this time. These are values stated, and then values enacted.
But, why values? How you spend your corporate charity funds, the way you treat employees, and the efforts you take to support your community are all heavily tied to the tribe your Brand Story invokes. Your brand is an exclusive club, and with every image/message/sale/product you are inviting your tribe to come be a member.
As humans, we don't always know why we do what we do. Features, benefits, and perks all weigh on our buying decisions. But, in the end, if we are presented with a choice between Smart Water and the much cheaper grocery store brand of electrolyte water, many of us will choose Smart Water. We don't know the science, or have any evidence that one is higher quality, but we do know that Jennifer Aniston drinks Smart Water and in some unconscious part of our brain, we identify with that brand on an emotional level.
Compare the packaging of two popular oat milk brands.
Oat-ly considers themselves a "challenger brand." When sitting at the breakfast table, you'll read their packaging and learn about their values over and over again. (In the most honest and transparent way).
They'll tell you things like: "The reckless pursuit of profits without any consideration for the well being of the planet and the humans that live here should be considered a crime." Or, "If you don't like the taste of our oat drinks, you don't have to drink them. Taste is personal which is why we don't take it personal if you don't like how they taste."
For those who buy oat milk because they want to drink less animal byproduct, this is a brand that will align with their values. They will be joining a movement of honest, snarky, and earth-loving people.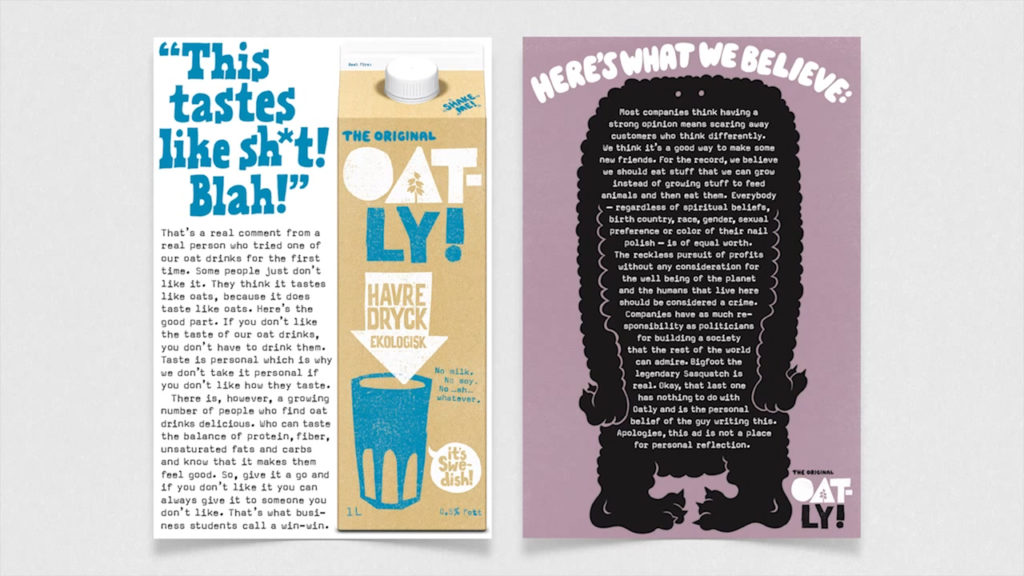 Chobani's brand of oat milk, the self-proclaimed "almost milk," champions dairy in their messaging. Their brand is for farm-loving, dairy-craving buyers who may not tolerate milk as well as they once did. On the side of their packaging you'll read a serene poem about the work of a farmer as they grow oats and create oat milk to sit on your table. It's educational and informative, and harkens a more simple (yet still sophisticated) life.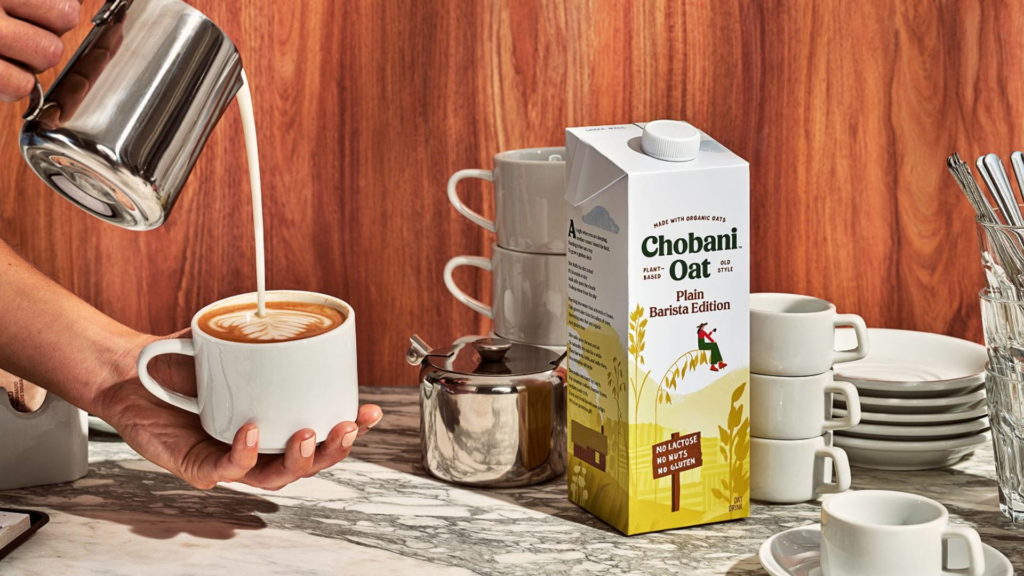 Values are at the core of each message. These Brand Stories inherently draw a certain type of person. And, they create loyal buyers. This is brand loyalty based not on flavor or ingredients, but loyalty gained purely by values.
A strategy shift, for now and later.
If it's not already clear, your marketing strategy has to change. For those who rely on in-person tours and visits, COVID-19 is eliminating your primary sales opportunity. This massive shift toward the virtual world will create a long-term change in buyer behavior. Beyond this crisis, people will continue to utilize digital communications in a new and increased way.
Immediately, your communication strategy needs to become values-based.
Things you can do today to build your brand story (literally):
Share how your company is helping the community. What is your company doing to help others during this national crisis?
Create a content calendar for providing clear communications about your practices, policies, closures, etc. during this COVID-19 outbreak.
If you have clearly stated corporate values, find gaps and opportunities for better incorporating those into your messaging.
Read about how to capture your brand story in an authentic way.
Things you can schedule for tomorrow (literally):
Take our course (FREE during the COVID-19 crsis) on Adapting in the Midst of a Crisis. Learn the 7 keys to communicating right now, while you get ready to bounce back.
Virtually gather your team for a Brand Story Workshop. Utilize the time your employees are spending with minimal or disparate tele-work by re-focusing on your Brand Story, so that you can get ready for post-crisis marketing.
Map your current buyer's journey toward a sale. Consider all of the places your customers experienced your brand prior to this shutdown, and how you're going to fill those gaps with virtual experiences.
Strengthen your brand story. Learn about our method for capturing your brand story.