See How Coke and 6 Other Big Brands Utilize HubSpot CMS
You might be surprised to hear that Coca-Cola, among other major brands like Nextdoor and Oregon State, have built attractive websites on HubSpot CMS. If you're looking into this solution for your own company, it can be helpful to see the breadth of the platform's capabilities.
You may not need HubSpot's enterprise level to desire a marketing solution that's scalable. In years past, HubSpot has not always been the premier, scalable solution for a new website. But, with their focus on building a best-in-class CRM and CMS platform to match, they've become a strong competitor for businesses of any size. Not to mention, so many companies jumping off the Wordpress bandwagon due to serious security concerns.
Honestly? We love HubSpot. (It's no secret.) But, we haven't always loved their website builder. We're here to report: it's gotten pretty awesome. And it's now the only way we would build a website.
What is a CMS, and how is HubSpot different?
A CMS, or content management system, is exactly what it sounds like: a system for not only building web pages but for organizing and distributing content. A CMS tends to focus on the power of what used to be a "blog" and has since become the endless sea of knowledge-filled articles that fill Google's pages.
Most of the go-to builders technically sit in the CMS category, like Wordpress, Joomla, Drupal, and Squarespace. But, to call Wordpress a CMS in the same breath as calling HubSpot's web build solution a CMS is to compare a piece of bread with an Italian sub.
To continue the analogy, HubSpot has its foundation in advanced marketing and CRM tools. Meaning that below the content management system layer is a whole lot of meat, cheese, lettuce, tomatoes, and dressing. It's a sophisticated, substantial, secure set of tools.
These same tools and capabilities don't live inside WordPress, Drupal, or any other counterpart. HubSpot is much more than a CMS, while its competitors are a CMS only.
CMS Hub Features
It's easy to understand how big brands are able to use Hubspot's CMS features in an effective way when you realize the depth of their value:
Drag-and-drop editor
Website themes
Multi-language content creation and testing
Dynamic content with HubDB
Local website Development
SEO recommendations & optimizations
Conversational bots
Smart content & reporting
A/B testing
Contact attribution report builder
Content delivery network (CDN)
99.99% uptime
24/7 security monitoring & threat detection
Standard SSL certificate
Add all of that to their integrated Customer Relationship Manager (CRM), forms, landing pages, list segmentation, subdomains, follow-up emails, and analytics reporting⸺you'll discover that this content management system has a lot to be happy about.
Coca-Cola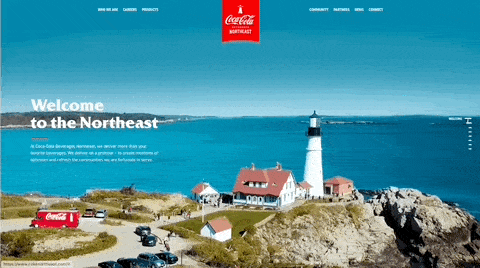 Coca-Cola Northeast has developed a seriously delightful website (with all the optimism and charm you'd expect). Displaying large photos and videos, this Coke division was able to encapsulate the unique northeast community using intuitive user experiences.
Features and Products used:
CMS Hub
Hubspot CRM
Marketing Hub
HubDB
Integrations/ APIs
Listings/ Directories
Unique usage of features:
What they left on the table:
With access to myriad ways of engaging consumers and capturing conversions, this beautiful site forgot to use HubSpot's forms in any capacity.
High Fidelity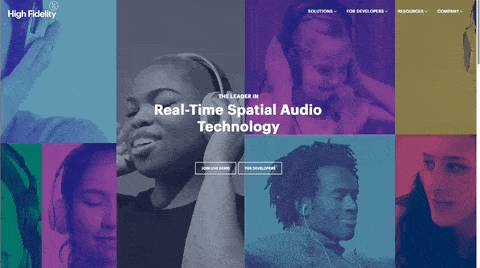 If you're not familiar, High Fidelity has one of the most interesting solutions on the market for a world stuck inside digital meetings: real-time spatial audio. Yep⸺we're talking virtual events with up to 150 people, all of whom can have conversations with one another as if they were in small groups in a physical room.
Now that we've blown your mind, let's talk about their website. The Get Growth team (of which we're a proud founding partner) developed a stellar site for High Fidelity. And, it was all accomplished using an advanced code-base on CMS Hub.
Features and Products used:
CMS Hub
Hubspot CRM
Marketing Hub
HubDB
Integrations/ APIs
Unique usage of features:
This site utilizes HubSpot's incredible lead generation tools in some of the most important ways: forms and calls-to-action. No doubt, their team is seeing qualified leads and interactions every single day.
What they left on the table:
The site has yet to take advantage of dynamic content (i.e., providing one message for some people and a different message for others). But, this can come down the line (and knowing Get Growth, it probably will).
Indigo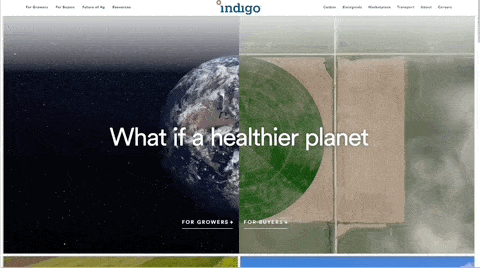 Indigo boasts a unique set of products and services that are designed to support not only today's generation of farmers, but tomorrow's. Their end goal of healthier farms for a healthier planet is (quite beautifully) mimicked throughout the customer experience.
Features and Products used:
Dynamic content
HubDB
CMS Hub
Unique Usage of Features:
With two core audiences, this HubSpot CMS site takes advantage of the ability to separate and track the needs of individual users, segregating them into entirely different funnels.
What they left on the table:
Without the Marketing Hub, Indigo isn't tracking and responding to user feedback at the same level. Their efficiency and overall value from the site will suffer from not taking advantage of everything HubSpot has to offer.
Kaj Hospitality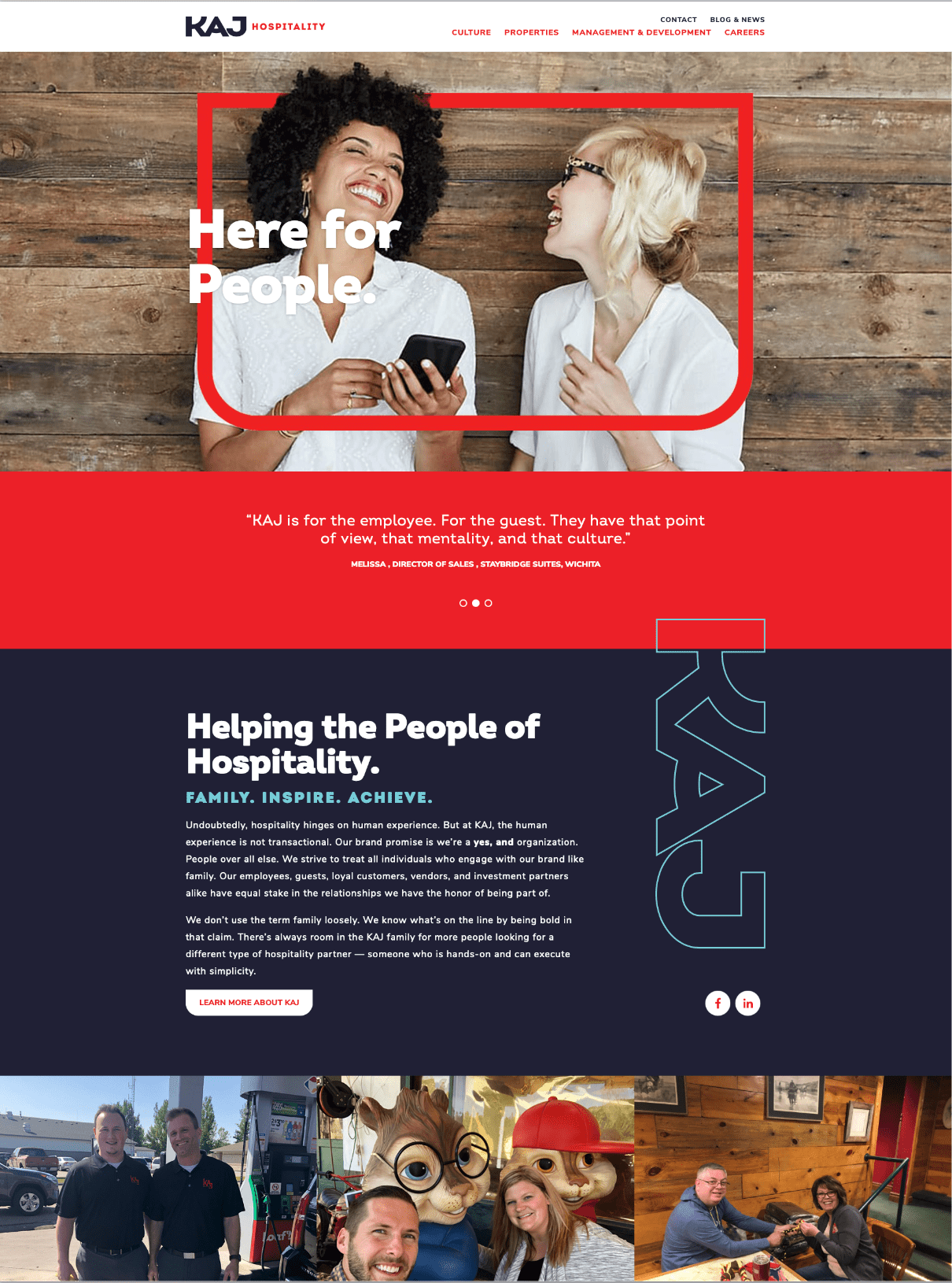 As a company built around hospitable experiences, Kaj Hospitality delivered a visually excellent website. Their minimal yet comfortable aesthetic has been paired with real-life photographs of the staff that run their ten properties. It's a great example of combining human experience with the clean and fresh feeling one finds in a high-quality hotel.
Features and Products used:
Landing Pages
HubDB
CMS Hub
Marketing Hub
Unique Usage of Features:
Kaj Hospitality used HubSpot's database technology, HubDB, to serve up their inventory of job openings. It's a smart and sophisticated way to incorporate this unique HubSpot feature.
What they left on the table:
Like so many websites, there is minimal incorporation of inbound marketing and lead generation. With a powerful tool in their hands, opportunities are falling by the wayside by not using them.
Pierce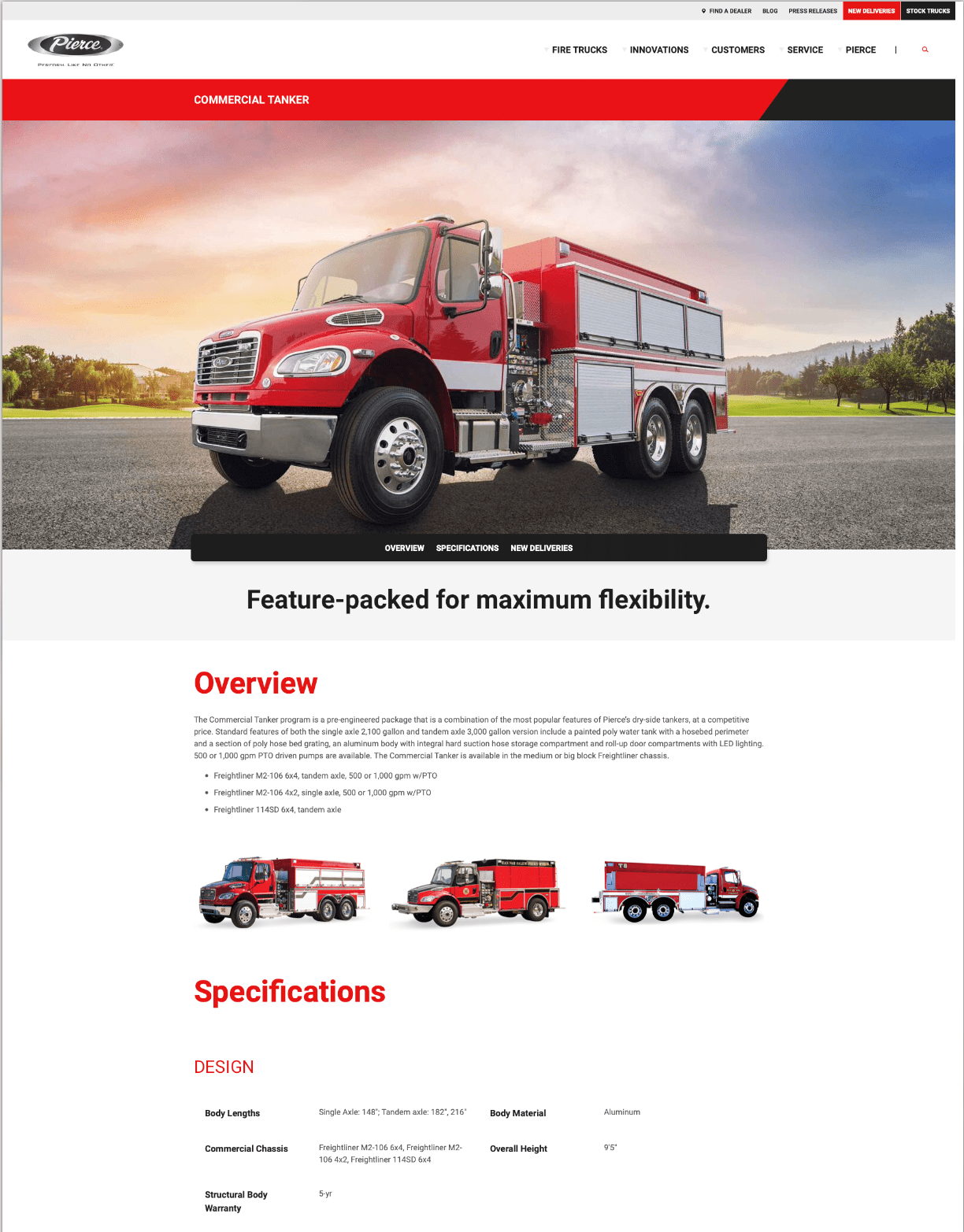 Pierce Manufacturing, which supplies the country with premier fire trucks, features the true depth and capacity of a HubSpot Website. From a searchable map, to endless high-end product pages, this website is a first-class brochure site.
Features and Products used:
Dynamic Content
CMS Hub
Marketing Hub
Integrations/ APIs
Unique usage of features:
To feature new and in-stock trucks, Pierce smartly used HubDB as a simple database solution. Easily search their listings and find helpful photos and details about what's available.
What they left on the table:
As a true brochure website, there doesn't appear to be a great use of forms, calls-to-action and funnels to utilize the Marketing Hub's amazing features.
Oregon State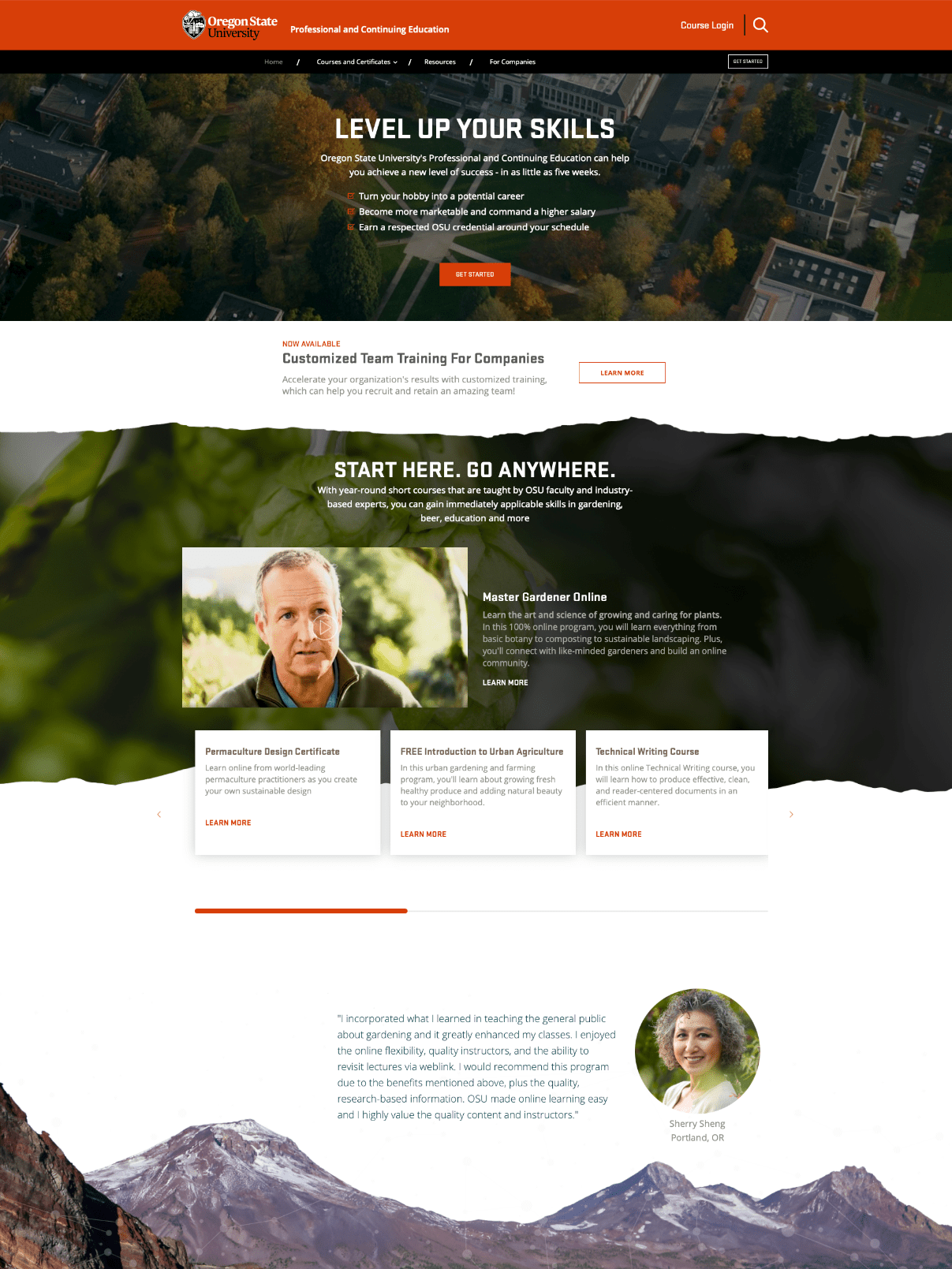 Oregon State utilized HubSpot's CMS to house their online professional and continuing education courses. From gardening to beer to writing, faculty and industry experts host master classes for as little money as free.
Features and Products used:
CMS Hub
Marketing Hub
Landing Pages
Product Catalog
HubDB
Unique usage of features:
With extensive webinars, articles, and resources, Oregon State was able to develop multiple databases and HubSpot's multi-blog feature to organize user experiences and needs.
What they left on the table:
Oregon State has done an excellent job of incorporating the many tools and use-cases for CMS Hub. However, they have not implemented HubSpot's conversational bots. This chat feature would be an ideal way to help someone funnel through courses and find a great match.
Nextdoor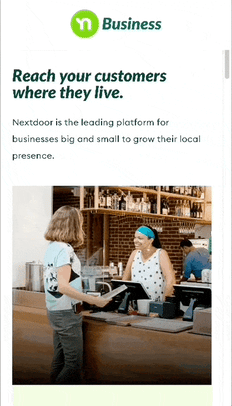 Nextdoor for Business developed an extremely simple and smart microsite to help businesses understand the power of advertising on their platform. For both local and enterprise business audiences, Nextdoor has developed a use case and funnel.
Features and Products used:
CMS Hub
Blog
Listings/ Directories
Unique usage of features:
While a beautiful site on any desktop or laptop computer, Nextdoor understands the reality of their app: people are engaging through mobile devices. This user interface has all the simplicity required for a great mobile experience.
What they left on the table:
In all its simplicity, Nextdoor forgot to enable the many inbound marketing and lead generation tools that HubSpot has to offer. The one form that can be found on the site is too long, and provides little value.
Did these brands choose the right CMS?
It's a fair question. Every CMS has its own use case, and HubSpot is not for everyone. If you want to grow your business, then CMS Hub might be a great fit. It's fair to say that these top brands are in that category: they are using the enterprise level of HubSpot and have their sights set on continued revenue growth.
Many of them are underutilizing the power of the CRM and Marketing Hub that can be added to HubSpot's CMS. Others are using the inherent marketing forms, landing pages, and conversational bots that come without even upgrading the CMS.
Choosing the right CMS for your next web build.
Let's face it: engaging in a web redesign can be painful. For years, our team developed websites like everyone else. In the end, it took months to launch and⸺truthfully⸺the site's best day was the day it went live. After that, it was just another stagnant cost that didn't bring new revenue to our client.
We set out to find a new way, and we found just that. We learned how to launch quickly and improve iteratively. We discovered that data and continual tweaks could improve performance over time. We also learned that incorporating the buyer's journey into our websites, if done well, could create a lot more conversions.
If you'd like to find the right CMS for your next build, ask these questions:
Will it be a truly secure environment?
What is the timeline for launch?
What are the plans for improving the website based on user data?
Do I need a digital brochure, or do I need lead generation?
What are my growth goals, and can my next website contribute to meet them?
If you want your next website to help your company grow, learn more about why web builds suck (and how to avoid pitfalls in your next redesign).