an ad strategy based on tigers
Since 2018, Cheetos has been the target of a new major competitor: PeaTos. These pea-filled copy-cats have one goal: be moderately more healthy than Cheetos. They've stripped out the common junk-food culprits, like artificial flavors and genetically modified ingredients, and they've replaced corn with peas. Their ad strategy -- rubbing it in Frito-Lays' face -- is nothing short of hilarious.
They've taken an amazingly small amount of money to create truly bad ads. And, it's working. This mock ad, designed to engage Millennials who have graduated to ingredient-conscious buying, flies in the face of the Cheetos brand in every way imaginable.
They've even tried to engage in open ad-wars with the Cheetos mascot, Chester. These display ads call Chester by name, and declare: "bring it on."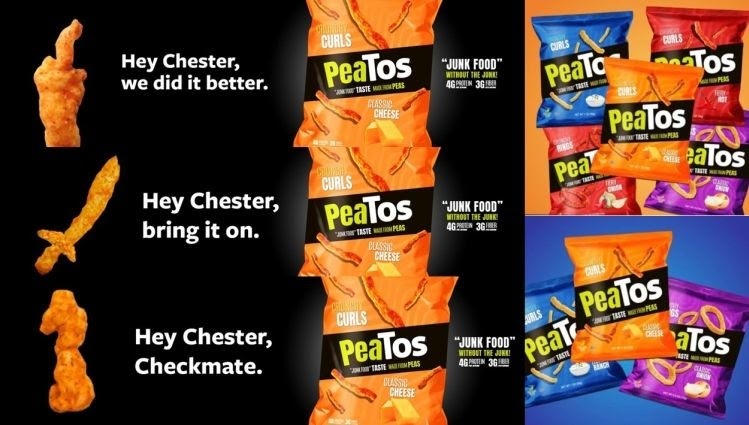 FoodDive states that in May, a cease and desist order was directed to PeaTos for their logo and slogan: "tigers live longer than cheetahs." After the launch of snacks.com by Frito-Lay, PeaTos even put up their own direct-to-consumer site: bettersnacks.com.
Clearly, this strategy takes guts. But, we're enjoying the show. And... admittedly opening up a bag of PeaTos while we watch.