People used to believe that seniors couldn't really be reached online. That's one reason that funeral preplanning and senior living still relies upon postal mail and expensive mass media. Along with everything else, times have changed. Now it's easier than ever to reach seniors online.
The trends toward online participation among seniors have been consistently growing for a number of years, but along with the rest of the population, they've gone more digital in 2020 that anyone could have imagined.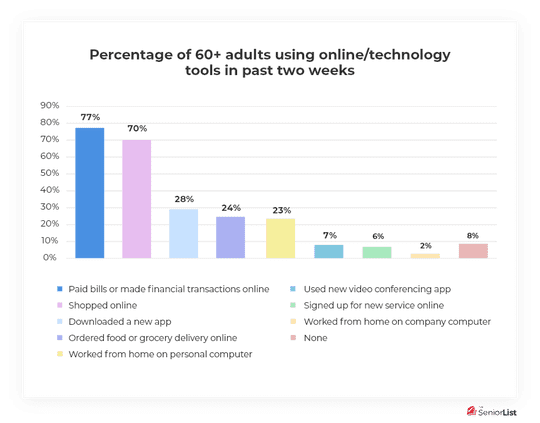 In just the past two weeks, about a quarter of seniors said they had bought groceries online for either pickup or delivery. Last year, only 11 percent of all Americans had used online grocery services.
Almost 30% have downloaded a new app during the crisis. (Survey by TheSeniorlist.com).
Focus on personal priorities
Where are they focusing their newly found digital energy? One area is financial and banking transactions. Instead of reaching for their checkbook, 77 percent of seniors reported that they had recently made a financial transaction or paid a bill online.
And shopping has been a huge focus for seniors. Nearly 70 percent reported doing some shopping online over the past couple of weeks. That's higher than the general public, which reported 69%.
While food and money are obvious priorities, senior housing and thinking about final arrangements falls into the same kind of category of "things we really need to take care of." That means that online connections make sense.
You can reach seniors with digital marketing and sales
For senior living, funeral preneeds, and any other business that has a senior sales focus, these numbers are important because they signal the fact that senior sales do not have to stop during the shutdown.
For senior living and preneeds sales to be effective in the digital space, they have to be comfortable with the tools and the difference in the sales process.
The trend is unlikely to reverse. Even though some restrictions with seniors are likely to change later this year, new skills and tools that fit right into the palm of your hand (or on your table or laptop) are just too convenient to forget. If you can check your bank balance, look at senior living options, choose a casket, or shop for toilet paper online, why wouldn't you continue?
Sales and marketing in the senior space will have to make this transition too.