People used to believe that seniors couldn't really be reached online. That's one reason that home care and senior living still relies upon postal mail and expensive mass media. Along with all the other things that have changed in 2020, more seniors are online now more than ever. The online move by seniors has profound implications for home care companies.
Seniors are Taking Over the Internet
The trends toward online participation among seniors have been on the rise for a number of years, but along with the rest of the population, they've gone more digital in 2020 than anyone could have imagined.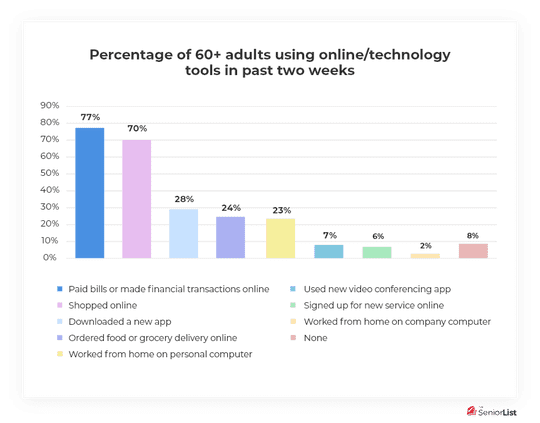 In just two weeks in April of this year, about a quarter of U.S. seniors said they had bought groceries online for either pickup or delivery. Last year, only 11 percent of all Americans had used online grocery services.
Additionally, almost 30% of seniors have downloaded a new app during the crisis. (Survey by TheSeniorlist.com).
Online Focus on personal priorities
Where are they focusing their newly found digital energy? One area is financial and banking transactions. Instead of reaching for their checkbook, 77 percent of seniors reported that they had recently made a financial transaction or paid a bill online.
And shopping has been a huge focus for seniors. Nearly 70% reported doing some shopping online over the past couple of months. That's higher than the general public, which reported 69%.
While food and money are obvious priorities, senior housing and thinking about getting some help at home fall into the same kind of category of "things we really need to take care of". That means that online connections make sense for home care, too.
How the emerging online senior will impact home care
If more seniors- now the majority- are active online, what does that mean for home care? The implications are significant, and companies that want to grow following the 2020 crisis will have to adapt in the following ways:
Seniors are going to search for home care and senior services online first. Getting your company ranked in search engines is a vital part of how seniors are going to find you. While lots of the big companies have invested in being found on page one, small and mid-sized companies should take the steps to be found on page one, too. 90% of the business is coming from page 1 listings online. But those rankings won't help unless you also take step 2.
Seniors are going to evaluate home care companies based upon their website experience. The experience that seniors have on your website and what their engaged family members think about how you present yourself online matters. That includes the number of your quality online reviews, too. It's time to take a critical look at what people actually experience when they visit you online.
Reviews online continue to matter in a big way. Seniors are noticing those ranking stars and paying attention to what others are saying.
Reaching seniors through low-cost and highly trackable digital marketing is a priority. If you don't have a giant mass media budget like the big franchises, then digital marketing can be the great equalizer. The digital ad markets don't care how big your company is, they sell ads to whoever wants them. If you target your ads carefully, you can get a big impact on a limited budget. The trick is to use ads effectively, not blindly--the digital ad sellers will take your money either way, but growth will only follow the effective use of digital marketing.
The whole family is engaged with senior choices online. With increased engagement from concerned family members spiking during 2020, you can expect this to continue. What seniors are viewing online, their family members are as well, and they have even higher expectations.
The increase in online activity by seniors should lead to a fresh focus on the way your home care company shows up online. For many that will require a new website, a strong emphasis on search engine rankings, and learning to master digital marketing.