Funeral homes encounter three primary types of social media users, and each group requires something distinctly different. Since social media is an extension of your company brand, everything that happens in your social network accounts should be important to you. If you have been involved in social media for your funeral home, you have encountered all three types.
Type 1: Information Sharers
For the vast majority of funeral home social media users, their social media engagement is utilitarian and personal. They are looking for information about a funeral or obituary. They will share the information they find on the funeral home social media with others if it is helpful and appropriate. Most often, they are looking for funeral or memorial information and photographs.
What they do next is important. Facebook has become a part of the grieving ritual. People will share condolences and memories on Facebook. They will use the funeral home post as the basis for this sharing.
Social media funeral information seekers need accurate and appropriate information about the details and life of the person who has passed. Providing this information is an important service to both the grieving family and those who want to support them, as long as the family provides permission for this information to be shared.
The visit by the information sharer to the funeral home Facebook page is important because it sets the stage for delivering other useful information about preneeds, healthy grieving, as well as other topics. It also plays an important part in the development of social advertising.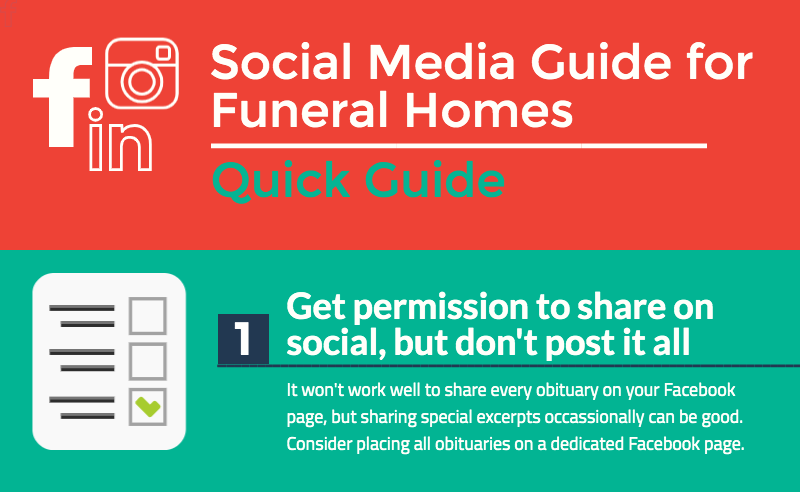 Type 2: Complaints and Praisers
The complaining or praising social media user receives the most funeral home attention. Compliments are always welcome and help create social proof that the funeral home provides quality, professional services.
Complaints fall into the category of painful. Since funeral homes cannot control what happens in social media, and because the emotionally charged period surrounding the loss of a loved one is full of tension and sometimes conflict, social media can become the location for unwarranted venting. The good news is that most people know that they can expect to see a few disgruntled voices in the social media space.
How funeral homes respond to both complainers and praisers is critical. Encouraging positive comments and reviews, and thanking people who provide them, is the best insurance against the occasional complaint. Prompt and professional response is always appropriate, and most often that will involve encouraging anyone with an issue to contact the funeral director to provide some additional information or insights.
The best complaint insurance online - is the presence of many positive reviews.
Monitoring social media and maintaining consistent professional posts is a key step for funeral homes. A variety of systems can be used to support this process and allow for both outgoing and responsive social media post management.
Type 3: The Accidental Social Media User
In a recent preneeds event that Story Collaborative supported, the presenter asked people to raise their hands to report where they heard about the event. About half of the audience heard about it online - many from social media. [Story uses a digital Preneeds Pipeline system to build and track interest in preneeds sales - ask us how this can work for you].
One response stood out - an elderly couple shared that they heard about the event "on the computer." They really weren't sure if it was an email, a social media advertisement, a banner ad or some other digital delivery - to them all of it, including social media is just part of assorted information "on the computer."
The statistics are clear, seniors are accessing social media whether they fully understand it or not. Funeral homes don't need to be cutesie or clever in social media for these users, just crystal clear.
This social media user is what we call the "accidental user." They are not internet savvy - but they use the computer, none-the-less. They don't have high expectations, but have one simple need - make your communications clear and simple. In the case of this event, the digital invitation was clear - a picture of food and an invitation for "lunch on us."
For the accidental social media user, make sure what you share is straightforward and that the response method is simple.
Bonus: The Community User
We added one more user type to reward those who read this far : )
There is a fourth type of social media user that funeral homes can connect with, but only if they are active in community events and activities. When funeral home staff are involved in planning, supporting and conducting community events, not only do they improve healthy interaction with families, but they position the funeral home as a resource for healthy grieving that is integrated into the community.
When this kind of community interaction is normal, then the social media presence of the funeral home can naturally contain other types of content too. This is an effective tool that allows funeral home social media to engage with individuals who are not involved in current funeral or memorial activities and helps to normalize the grieving process.