On Facebook, the past and the present are separated by just a swipe of the mouse. People can share grief and remember loved ones at the same time. They become digital memorials in which people are able to share memories and support. And these memorials are not restricted to physical presence at a funeral service - instead, they connect people who cannot be present with those who are grieving. All of this helps those who have suffered loss to make sense and meaning out of loss in the thoughts of others. This also provides a unique opportunity for funeral service marketing.
Facebook has become a place for digital memorials
In many ways, Facebook has become a place for digital memorials. And while there are risks for exposing thoughts and feelings online, there are also benefits. One healthy element is that it helps individuals and families to move end of life conversations from just a private matter to a broader discussion. For funeral homes, it is an opportunity to support healing rituals and to advance pre-planning discussions.
The Wrong Kind of Advertising for Funeral Providers
It's critical to not miss the essential nature of Facebook. To many advertisers, it is purely an advertising medium, but to the people that you serve, it is personal. Facebook is a conversation between friends. If your advertising does not approach Facebook as if you are carefully joining a conversation, then it is the wrong approach.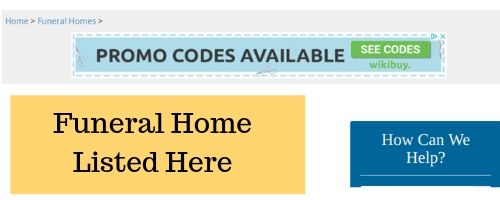 Funeral and Cremation advertising on Facebook and other digital locations should use an approach similar to what a Funeral Director does as they talk with families, offering important information with respect and compassion.
How Funeral Homes can Market on Facebook Effectively and Appropriately
Equip your website and obituaries for social sharing. People will want to share everything about their experience and the details of a loved one's life. Make sure this functionality is included in your website.
Use inbound marketing strategies that are rooted in providing value online. This approach provides online content that is valuable for sharing online, while it also provides fuel for the search engines to send online searchers to your company.
Use Facebook ads in ways that join the conversation and normalize pre-planning. Reaching people using social advertising can work in a powerful way to help more people learn about and make decisions to make great pre-need decisions.
Understand the importance of building an online "audience of trust" that will come to view your company as a part of their conversation. People come to trust your company both through their in-person experiences at funerals and memorials and when you share valuable online information that helps them both before and during the grieving process.


Audience Building is Always the First Step in Funeral Service Marketing
If you are committed to a value-first approach to reaching new customers through inbound marketing, then building an audience is a natural part of the process. The audience building approach addresses the need for broad brand awareness that keeps your company in front of people for immediate needs plus it positions your company to have effective pre-needs discussions with more families as well.
An audience is different than a target market. One describes the people you want to reach, the other is defined by those who are paying attention.
Audience building also has other significant benefits that include the reduction of advertising costs long-term, and the development of house lists that can be used with low-cost marketing strategies. Audience building has to be accomplished intentionally and involves both a strategy and marketing assets.