SOUND STRATEGIES FOR DIGITAL FUNERAL HOME MARKETING THAT INCREASE IMPACT AND MAXIMIZE YOUR BUDGET
The phone rings every week with an offer to place you in the top rankings and run digital ads. Even newspapers and other traditional print providers are trying to sell digital products. Rather than purchase digital marketing like "by the slice pizza", you need a strategy to move from legacy marketing approaches to effectively reaching more people online with effective digital funeral home marketing.
If you haven't developed a strategy for digital marketing, it's easy to rely on what you used to do or to simply try the next things offered by phone.
Is there an argument to continue legacy marketing like postal mail, newspaper and billboards?
The answer is, "yes, but...only as a part of a larger strategy." If you've looked in the mailbox of an older American recently, you would be aware of just how much mail seniors get. It's an oppressive amount. Each piece of well-designed marketing mail makes every other piece less valuable, and there's a lot of competition for that senior's time and money. And, of course, thinking about final arrangements is not as exciting as entering to win 10 million dollars in a sweepstake.
Any marketing strategy has to bring together all of the touchpoints that people have with your company. If this includes mail, that mail should align with your digital brand. Since it takes multiple "touches" for someone to move from awareness to decision (as many as 8 or more), every time you mismatch the brand experience (messages that don't match in print, email, web or social, etc.), you are making that person start all over again in the process. For funeral homes, this is relationship can develop over many years or decades, and brand confusion can defeat years of brand awareness.
Take advantage of brand experiences
Every time someone writes a condolence message, sends flowers, or attends a funeral service or memorial in your community where your company is involved, you have the opportunity for a positive brand experience. When those experiences are digital, you have a unique opportunity to make a strong, positive impression. All of that activity creates digital exposure for the funeral home.
The vast majority of traffic that comes to funeral home sites is most often for condolences and those seeking funeral information. Some companies try to monetize this traffic by selling flowers, etc. That may be a lost future revenue opportunity if they don't have a positive experience online as each of these visitors enters your "digital foyer".
The experience people have in seeking funeral information is one important step toward their awareness and brand experience with your company.
Tharp Funeral Home and Crematory is a Story Collaborative client that provides those who want to leave an online condolence with multiple opportunities to receive additional information as a download on the website or by email. This allows ongoing education about all the elements of pre-needs, cremation, and legacy planning.
Digital Marketing for your Website "Drive-By's"
Your website is to the digital world as the front of your business is to cars driving by. Every time they "drive-by" digitally as they look up a friend's funeral details, or search for services for their own family, they get an idea about your professionalism and the positive, caring environment you provide. Does your website design give the same message that your carefully manicured landscaping and foyer offer to those who visit or pass by? Your website and the experience it provides is your first stop for building a digital marketing tool.
The big difference between the value of frontage on a busy road and an effective digital presence is that, unlike the roadway, you can increase the traffic on your website by using a number of important strategies. And don't forget, the website traffic doesn't get congested, is active 24/7, and can be tracked and measured.
Website Checklist
Your website is that 24-hour-a-day attendant that can provide information, offer a glimpse of your professionalism, and allow people to communicate with you. Here is a short checklist of questions to ask about the health of your website:
Do you have large, engaging imagery or video on the top of every page?
Does your website work just as well on a mobile phone as a large computer screen?
Do you explain in short phrases what you offer in the top of the home page?
Is it easy to find key services in just one or two clicks?
Are funeral details easy to find, share and are attractive?
Do you ensure that all digital ads point to pages specially designed for the ad?
Do you provide multiple digital and telephone contact options?

Who is Visiting Your Digital Street?
Effective digital marketing is built on an intentional strategy that includes a target market, audience engagement, and multiple methods to engage and win new customers. For funeral homes and crematories, this means that you have to begin by understanding your target market from a digital perspective.
The chart below, provided by Pew Research, tells an important story. 40% of those who are 65 and older use social media (49% are on Facebook), but about 70% of those who are aged 50-64 are active in social media. 56% of those who are older than 50 use Youtube. And all of those numbers continue to climb.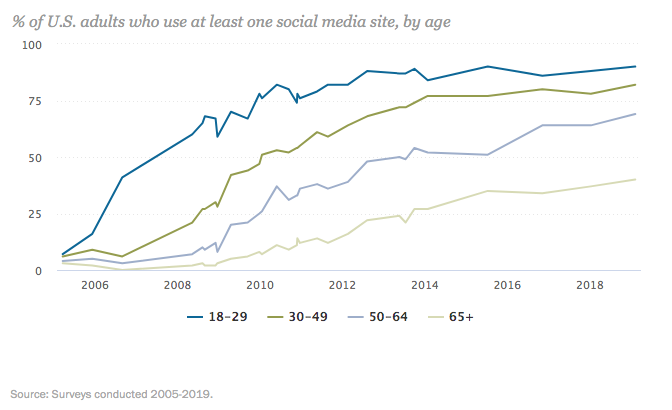 When it comes to internet use in general, the activity of seniors is even higher than social media use, as you can see in the internet use chart below. Between 60 and 75% of those who are older than 70 are online. These numbers don't take into account the rapid shift to voice-activated smartphones and tablets plus smart home devices that take provide online information without even using the screen. Can anyone say, "Alexa, funeral home near me"?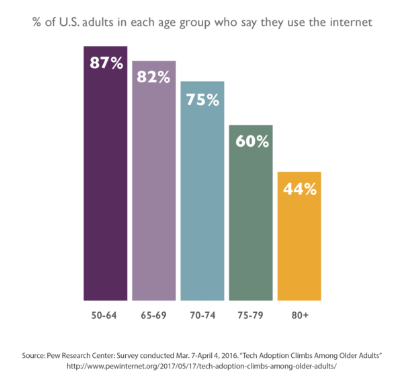 Of course, immediate need inquiries are often made by family members who are much younger, whose reliance upon the internet doesn't really need to be explained. The involvement of younger family members means that reliance on the internet for funeral information is deeply reliant on the internet.
The need for a marketing strategy couldn't be clearer
Where to start? Building from an intentional strategy starts when you detail the specific preferences of your target market within your service area. This is accomplished using two tools: a persona and a story canvas.
The persona is a detailed description of your ideal customer for a specific set of services such as immediate needs, burial, cremation, or pre-needs. You will need more than one persona. The persona describes the background, digital preferences, social support and media consumption of your ideal customer and explains what you can do to serve them best in detail. You can create personas yourself or purchase this as a part of a strategy package.
Ever wonder why it's not the best funeral home services that show up on the top of a Google Search?
Competition Analysis
Understanding what your competition is doing online is an important part of your marketing strategy. No doubt you are seeing their ads and their listings online when you search. Some funeral homes even use their competitor's brand name as a keyword so that when people search for your business name their listing appears.
An effective competition analysis takes your differentiators and looks for "low-hanging fruit" in the online space. These may be keywords with high traffic and low competition, services or offerings that are not clearly defined, and digital ad space that is not being used well. To get started on this, make a list of the top 10 things that you think customers might search for when they are looking for in immediate needs, cremation, or pre-needs options and make notes about what appears. Answer these questions:
Who is appearing in the ads (top of the search page)?
Who is appearing in the map section (middle of the page)?
Who is appearing in the primary organic (lower third- most valuable)?
Are any quick tips showing up on the top of the page (definitions of terms or facts)?
Where is your company ranking on these pages?
Avoiding Digital Funeral Home Marketing Pitfalls
There are a number of ways that marketing budgets are spent in ways that don't produce good outcomes. The promise of digital funeral home marketing is simple: it should be trackable. That should be the number one question about any digital marketing plan. Those projected outcomes should be meaningful to you because anyone good with numbers can make them say lots of things. Your digital marketing should focus on developing leads and customers for your services. Here are a couple of pitfalls to watch out for:
Digital marketing by traditional media companies. Many print, radio, and news companies are trying to re-invent themselves. They offer digital ads on their websites or "geo-fencing" with ads they produce. The amount of traffic that these ads will produce for you will probably be extremely small. They are good at radio, news, or print and they may not understand that digital marketing is both art and science and it takes lots of years of experience and continuous learning to stay relevant.
Guaranteed Web Traffic Services. If anyone is guaranteeing you web traffic, they are either sending it to a page they put up instead of your website, they are buying traffic, or they are using questionable or risky SEO tactics (SEO stands for "search engine optimization"). There are large companies that put up "mirror websites" and promise to put you on the first page of google for a monthly subscription fee. The basic principle of digital advertising is that you either "rent or own" your traffic (read more in this article), and if you are going to pay for ads to "rent traffic", it needs to send people to your website. Owning traffic only comes from a combination of great content, strong web experience, and SEO consistency.
Paying to Avoid Complaints or Buy Likes. There are websites online that are in the "review or like brokering business". They offer a consumer rating and provide advanced services if you purchase ads. Some of these sites are built upon complaint management. Purchasing likes is a waste of money because Facebook caps your organic traffic (free distribution) at 2%. If you had 1,000 likes, only 20 people would see a post without real online value.
Free or extremely low cost websites. The vast majority of free or extremely low cost websites are great for start-up companies or home-businesses. The next step up is templated websites for funeral homes. The challenges with all of these approaches are very distinct: 1) they make you look like everyone else when you really need to stand out; 2) they don't integrate with any modern marketing automation (which is essential if you want to grow); and 3) they often look and feel like a template or a cheap website (aka sometimes you get what you pay for). Your website has to combine valuable information, positive experience plus SEO.
Running Ads without Marketing Automation. Digital ads that send people to the home page of your website are not being run properly. This is like telling someone to call you and then handing them the local phone book. An individual who clicks on an ad expects to find information that is specific to the ad. Both Facebook and Google will flag these as ineffective ads and will charge you more to run them. What's more, you have to provide a variety of actions for people to take based upon their stage or readiness to purchase. A one-size fits all approach, like sending them to a home page, will reduce the number of leads and customers from your ads. Creating various response options and placing them in multiple pages is the work of marketing automation systems which offer all of these tools. Marketing automation should sit behind the website to ensure that 1) you capture every lead; 2) provide appropriate options for a response; 3) follow-up is swift and continuous for those leads, and 4) that you can track the effectiveness of each element.